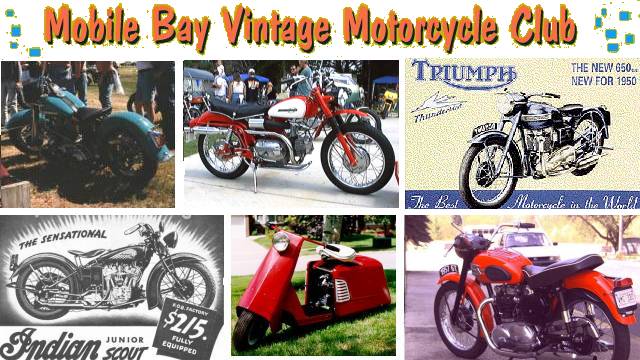 Our club has a new web address!!!
We are now officially a ".org".: mbvmc.org


The MBVMC is a club for those who love the art of vintage motorcycles. This site serves as a virtual clubhouse for our members and all who wish to visit. On this site we will keep you informed of:
| | |
| --- | --- |
| | Newsletters |
| | Upcoming shows and events |
| | Bikes and parts for sale (You do not have to be a member to buy) |
| | Bikes and parts wanted |
| | Club roster (This page has lots of pictures of member's bikes) |
| | Club news (See pictures from recent MBVMC functions) |
| | Picture of the week (humorous, informative, unusual, or totally irrelevant pictures sent to us by our members/visitors) |
| | Links of interest |
Membership: We meet informally on the 3rd Thursday evening of each month at Rosie's 1901 Motorcycle Consignments on Hall's Mill Road in Mobile (behind the McGowan shopping center. Our primary mission is to organize our Spring and Fall Motorcycle Shows. See results of Dauphin Island 2018 and Biloxi 2017. See the News Page for information and pictures of other past shows.
If you live in the Mobile Bay area (Biloxi to Pensacola) and would like to join: Click here for our on-line membership form. Members have full use of the internet services on this site. Remember, ads placed on our site will be seen around the world.
Start your weekend with the Eastern Shore Saturday Breakfast Bunch. Held informally 8:00 AM each Saturday at the Cracker Barrel in the Eastern Shore Shopping Center (I-10 Malbis Exit) in Malbis, Alabama. Many MBVMC members attend regularly and all makes are welcome. The two-wheeled public is invited.

Are you going to get rained on? Check the current Mobile weather radar loop from Intellicast.

The MBVMC is located in Mobile Alabama, USA. This site is maintained by MBVMC strictly as a hobby. MBVMC takes no responsibility for advertisements and any claims posted on this site by its members.

Looking for something on the web? We have added Google, the world's most powerful search engine, to our site. Just type in what you are looking for (such as: Triumph motorcycle spokes) and see what comes up