To place an ad Email text and photo to the club secretary, Jim Downey at jasdowney@gmail.com . Include a description of the items and price. Ads are free to club members. The general public is invited to enquire about items on this page and are encouraged to buy! The green

icon means that a picture of the item is included. Click on the underlined hypertext to view the picture. Please let us know if your item sells so we can remove the listing. Items will automatically be removed after 1 month unless otherwise instructed.

Check Craig's list for motorcycles for sale in Mobile Alabama

MBVMC Recommended Shops

Phil runs the Best Strip Joint in Town!

Every restoration begins with removing rust and old paint. Strip Tech in Grand Bay Alabama will professionally clean motorcycle parts using plastic media and fine sand blasting. Call Phil Osterkamp at (251) 865 3678. 10910 Potter Tract Rd, Grand Bay, AL.

Adventure Motor Sports of North West Florida
Dealer in BMW, Moto Guzzi, Ural, Indian and more. 6330 Pensacola Blvd, Pensacola, FL 32505

Classic BMW parts and restoration services in Sturgis, MS. Specializing in 1951-1969 BMW motorcycles. Craig "Vech" Vechorik, Proprietor. 1-800-323-7102

D&D Cycles
in Pensacola has one of the most complete lines of NOS, used, and reproduction parts for vintage BSA, Triumph and Norton motorcycles anywhere! Service and restorations for vintage Brit Bikes old and new. Authorized New Triumph, KTM and Ducati Dealer. 850 456 0354 or sales@danddcycles.com

Mobile's only franchised Harley dealership. A great selection of new and used rides.

Mike Porter's Powder Coat Junction.
This is a great place for all of your vintage motorcycle repairs. Mike does Powder Coating for all motorcycle parts (frames included) and even small auto parts.

Mike also offers Vapor Blasting. Vapor blasting cleans aluminum parts like nothing you have ever seen before. All grease, oxidation, and crud is removed leaving a bright aluminum sheen. Great for alloy engine parts. Mike can repair broken plastic parts like bodywork on sport bikes. Mike Porter does tire repair and is a DYNABEADS dealer: The easiest and cheapest way to balance your tires.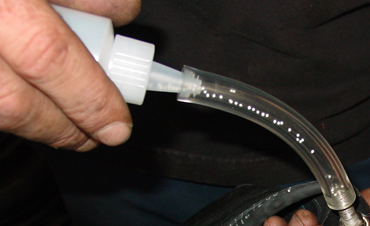 Mike is also a dealer for German Heidenau tires. Heidenau has a full line of vintage tires at affordable prices.
The shop is located in Theodore, Al. Bikemicro@aol.com or 251 421 6600.

Rosie's 1901 Motorcycle Consignment Sales
Located at 3200 Hall's Mill Road Just south of The new McGowan Park Shopping Center. New and used motorcycles for sale. Rosie will sell your bike for you. 251 300 8286 or email at: rosies1901@gmail.com 

A-1 Upholstery
in Mobile. The best place to get that ripped seat renewed. They do beautiful work at a reasonable price A1AUTOINTERIORSINC@Yahoo.com or 251-380-9262

Aubie Pouncey
in Grand Bay, AL aubiepouncey@aol.com We have a state-of-the-art industrial machine shop in Grand Bay and can make custom parts or repair almost any kind of part. We also do glass bead blasting and aluminum welding.

Dr. Locksmith
NO Key for that motorcycle you are restoring? No problem. Dr. Locksmith can make a key for almost any ignition switch at a reasonable price. Located at 5022 Schillinger Rd S, Mobile, AL 36619. Phone (251) 660-2225.